KEYNOTE SPEAKERS

Madhusudhan Annadata
Director, Division of National Standards, Centers for Medicare and Medicaid Services, Baltimore, MDS

Mitchell Berger, MPH
Office of Policy, Planning and Innovation, Substance Abuse, and Mental Health Services Administration (SAMHSA), Rockville, MD

Marissa Gordon-Nguyen, MPH, JD
Senior Advisor for HIPAA Policy, Office for Civil Rights, US Department of Health and Human Services, Washington DC

Cora Han, JD
Senior Attorney, Division of Privacy and Identity Protection, Federal Trade Commission, Washington, DC
Jeanette Manfra, MA
Assistant Director for Cybersecurity, Cybersecurity and Infrastructure Security Agency (CISA), Department of Homeland Security, Former Director for Critical Infrastructure Cybersecurity, National Security Council, the White House, Washington, DC

Deven McGraw, JD
General Counsel & Chief Regulatory Officer, Ciitizen Corporation, Former Deputy Director, Health Information Privacy, OCR, Former Director, Health Privacy Project, Center for Democracy & Technology, Redwood City, CA

Serena Mosley-Day, JD
Acting Senior Advisor for HIPAA Compliance and Enforcement, Office for Civil Rights, US Department of Health and Human Services, Former Assistant Regional Counsel, Social Security Administration, Atlanta, GA

Timothy Noonan, JD
Acting Deputy Director for Health Information Privacy, Office for Civil Rights, US Department of Health and Human Services, Washington, DC

Jules Polonetsky, JD
CEO, Future of Privacy Forum, Former CPO & SVP for Consumer Advocacy, AOL, Former CPO, DoubleClick, Former Consumer Affairs Commissioner, New York City, Former Member, New York State Assembly, Former Aide, Congressman Charles Schumer, Washington, DC

Donald Rucker, MD
National Coordinator for Health Information Technology, US Department of Health and Human Services, Former Chief Medical Officer, Siemens Healthcare, Washington, DC

Lucia Savage, JD
Chief Privacy & Regulatory Officer, Omada Health, Former CPO, Office of the National Coordinator for HIT, Former Senior Asst GC, UnitedHealthcare, Former GC, Pacific Business Group on Health, San Francisco, CA

Roger Severino, JD
Director, Office for Civil Rights, US DHHS, Former Director, DeVos Center for Religion and Civil Society, Institute for Family, Community and Opportunity, Heritage Foundation, Former Trial Attorney, Civil Rights Division, US DOJ, Washington, DC

Tonya Ugoretz
Deputy Assistant Director, Cyber Division, FBI, Adjunct Associate Professor, Center for Security Studies, Georgetown University, Adjunct Faculty, Center for Intelligence Training, FBI Academy, Washington, DC
FEATURING PRECONFERENCE SESSIONS


Basic Training for Health care Privacy Professionals

Certified Cyber Security Architect (CCSASM) Professional Certification Training
KEYNOTE SESSIONS


OCR Director Roger Severino Keynote

FTC Sr Atty Cora Han Keynote

SAMHSA's Mitchell Berger Keynote

ONC Privacy and Security Policy Update

Patients Control of Health Data

Health Care Privacy in Context of Global Privacy

21st Century Cures Act

Trends of Reportable Health Data Breaches

Chief Privacy Officers Best Practices Roundtable

Chief Security Officers Best Practices Roundtable

CMS Administrative Simplification Update

ACA Operating Rules Update

HIPAA Transactions: The Health Plan Perspective

HIPAA Transactions: The Hospital Perspective

HIPAA Transactions: The Physician Perspective

The DeVinci Project: A New Approach to Administrative Transactions
AND MINI SUMMITS


Compliance Concerns for new Business Associates

Blockchain Technology Privacy, Data Security and HIPAA Compliance

HIPAA and Artificial Intelligence (AI) in Healthcare

Health Plans are Covered Entities too

GDPR and new California Privacy Law Update

Performing Effective HIPAA Risk Assessments

Security Risk Analysis – By the Book

Practical Cybersecurity for Medical Devices

How to Respond to a Ramsomware Attack

Determining if your Vendor's Security Incident is a Breach

NIST CsF = Standard for HIPAA Compliance + Cybersecurity

Informatics: Applying Privacy and Security to HER

Research Data Governance: Best Practices and Case Study

Vendor Management in the Era of Big Data and Machine Learning

Analytics Innovations, including Security Safeguards in Protecting ePHI
HIPAA SUMMIT IS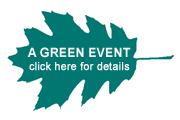 FEATURED FACULTY

Kate Black, JD
Global Privacy Officer and Senior Counsel, 23andMe, Former Health Privacy Attorney, Office of the National Coordinator for Health IT, Former Federal Policy Analyst, Center for Democracy & Technology, San Francisco, CA

John Boles
Director, Global Legal Technology Solutions, Ankura, Former Assistant Director, International Operations, FBI, Birmingham, AL

Steve Cagle, MBA
Chief Executive Officer, Clearwater Compliance, Executive Chairman, CMP Pharma, New York, NY

Nick Culbertson, MD
Co-founder and Chief Executive Officer, Protenus, Baltimore, MD

Josh DeFrain, MS
Chief Information Security Officer, Flatiron Health, Former Global Cyber Security Operations Director, Capital One, Washington, DC

Kristen Erbes, CIPP/US
Chief Privacy Officer, Cambia Health Solutions, Portland, OR

Daniel Fabbri, MS, PhD
Founder & Chief Executive Officer, Maize Analytics Inc., Assistant Professor, Vanderbilt University, Nashville, TN

Matthew Farry
Senior Security Specialist, GreyCastle Security, Troy, NY

Mark Fox, CHC, CHPC, CHRC
Compliance and Privacy Officer, American College of Cardiology, Miami, FL

Tabatha George, JD
Associate, Fisher Phillips LLP, New Orleans, LA

Ellen Marie Giblin, JD, M Ed, CIPP/US/C/G
Chief Privacy Officer & Counsel, Privacy Hub, LLC, Former North American Privacy Officer, Philips, Former Head HIPAA Privacy Officer, Boston Children's Hospital, Boston, MA

Daniel F. Gottlieb, JD
Partner and Co-leader, Global Privacy and Cybersecurity Practice, McDermott Will & Emery, Chicago, IL

Tina Grande, MHS
Senior Vice President, Policy and Chair, Confidentiality Coalition, Healthcare Leadership Counsel, Washington, DC

Nicholas Heesters, JD, CIPP
Health Information Privacy & Security Specialist, Office for Civil Rights, US Department of Health and Human Services, Former MIS Director, Delaware River and Bay Authority, Former VP, Technology Infrastructure, JP Morgan Chase, Washington, DC

Kate Heinzelman, JD
Counsel, Sidley Austin LLP, Former Deputy GC, US DHHS, Former Special Assistant and Associate Counsel, President Barack Obama, Washington, DC

David Holtzman, JD, CIPP
Executive Advisor, CynergisTek, Inc., Former Senior Adviser for HIT and the HIPAA Security Rule, Office for Civil Rights, HHS, Austin, TX

Pamela Hrubey, DrPH, CIPP-US, CCEP
Global Privacy and Data Protection Practice Leader and Managing Director, Crowe LLP; Former Chief Privacy Officer and Senior Ethics and Compliance Officer, Global Shared Services, Eli Lilly and Company, Indianapolis, IN

Thora A. Johnson, JD
Partner and Chair of Healthcare Practice, Venable, LLP, Baltimore, MD

Tatyana Kanzaveli
Founder and Chief Executive Officer, Open Health Network, Resident Mentor, 500 Startups, Chief Executive Officer, TEDxBayArea, Former USSR Chess Champion, San Francisco, CA

John Kelly, MHA
Principal Business Advisor, Edifecs, Managing Director, HealthIT LLC, Boston, MA

Anne Kimbol, JD, LLM, CIPP/US, CHPC
Assistant General Counsel and Chief Privacy Officer, HITRUST, Former General Counsel, Texas Health Services Authority, Frisco, TX

Sharon R. Klein, JD, CIPP/US
Partner and Chair, Privacy, Security and Data Protection Practice, Pepper Hamilton LLP, Irvine, CA

Gail Kocher, MPA
Director, National Standards, Blue Cross Blue Shield Association, Chicago, IL

Suzanne Lestina
Director, Administrative Simplification, American Hospital Association, Former Director Revenue Cycle MAP, HFMA, Washington, DC

John Mattison, MD
Chief Medical Information Officer, Kaiser Permanente, Faculty, Singularity University, Pasadena, CA

Heather McComas, PharmD
Director, Administrative Simplification Initiatives, American Medical Association, Former Professional Affairs Manager, National Association of Boards of Pharmacy (NABP), Chicago, IL

Thomas H. McCoy, MD
Director of Research, Center for Quantitative Health, Massachusetts General Hospital, Harvard Medical School, Boston, MA

Jon Moore, MS, JD, HCISPP
Chief Risk Officer, Clearwater Compliance, New York, NY

Dayna Nicholson, JD, MPH
Counsel, Davis Wright Tremaine LLP, Los Angeles, CA

Uday O. Ali Pabrai, MSEE, CISSP
Chief Executive and Co-founder, ecfirst, (Home of HIPAA Academy), Irvine, CA

Nancy L. Perkins, MPP, JD
Counsel, Arnold & Porter, Washington, DC

William J. Roberts, JD
Partner, Shipman & Goodwin LLP, North American Privacy Lead, Interlaw, Hartford, CT

Deidre Rodriguez, MS, CIPP/US
Staff Vice President, Privacy and Compliance, Anthem; Co-Chair, Privacy and Security Workgroup, WEDI, Denver, CO

Tracey Scraba, MPH, JD
Vice President and Chief Privacy Officer, CVS Health, Former Vice President and Chief Privacy Officer, Aetna, Hartford, CT

Mike Semel, CHSP, CBCP, CHA, CSCS
President and Chief Security Officer, Semel Consulting LLC, Former VP Business Continuity & Compliance, Connecting Point of Las Vegas, Former CIO, Schuyler Hospital, Las Vegas, NV

Christina Solis, JD, MPH
Senior Legal Officer and Privacy Officer, University of Texas Health Science Center at Houston, Houston, TX

Rob Theriot, MBA, CISA, CRISC, GISP
Director of Security Services, TraceSecurity, Baton Rouge, LA

Chris Wargo, MBA
Managing Partner, Infolock, Washington, DC

Erin Weber
Director, Committee on Operating Rules for Information Exchange (CORE), CAQH – Streamlining the Business of Healthcare, Washington, DC

Shane Whitlatch, MBA
Enterprise Vice President – National and Enterprise accounts, FairWarning, Inc., Saint Petersburg, FL

Rebecca L. Williams, RN, JD
Partner and Chair, Health Information Practice, Davis Wright Tremaine LLP, Seattle, WA
PARTICIPATION OPTIONS
TRADITIONAL ONSITE ATTENDANCE
Simply register, travel to the conference city and attend in person.
Pros: subject matter immersion; professional networking opportunities; faculty interaction

LIVE AND ARCHIVED WEBCAST PARTICIPATION
Watch the conference in live streaming video over the Internet and at your convenience at any time 24/7 for the six months following the event.
The archived conference includes speaker videos and coordinated PowerPoint presentations.
Pros: Live digital feed and 24/7 Internet access for next six months; Accessible in office, at home or anywhere worldwide with Internet access; Avoid travel expense and hassle; No time away from the office.


WEBCAST INTERFACE SAMPLE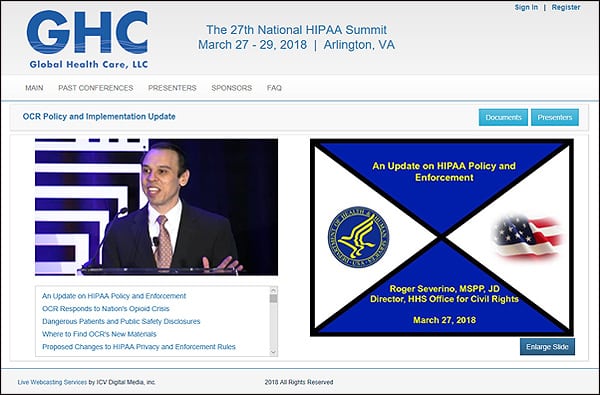 Click here for a sample stream