KEYNOTE SPEAKERS

Madhusudhan Annadata
Director, Division of National Standards, Centers for Medicare and Medicaid Services, Baltimore, MD

Mitchell Berger, MPH
Office of Policy, Planning and Innovation, Substance Abuse, and Mental Health Services Administration (SAMHSA), Rockville, MD

Cora Han, JD
Senior Attorney, Division of Privacy and Identity Protection, Federal Trade Commission, Washington, DC

Deven McGraw, JD
General Counsel and Chief Regulatory Officer, Ciitizen Corporation, Former Deputy Director, Health Information Privacy, Office for Civil Rights, US Department of Health and Human Services, Former Director, Health Privacy Project, Center for Democracy & Technology, Former Chief Operating Office, National Partnership for Women & Families, Redwood City, CA

Jules Polonetsky, JD
Chief Executive Officer, Future of Privacy Forum, Former Chief Privacy Officer and SVP for Consumer Advocacy, AOL, Former Chief Privacy Officer and Special Counsel, DoubleClick, Former Consumer Affairs Commissioner, New York City, Former Member, New York State Assembly, Former Legislative Aide, Congressman Charles Schumer, Washington, DC

Lucia Savage, JD
Chief Privacy and Regulatory Officer, Omada Health, Former Chief Privacy Officer, Office of the National Coordinator for Health Information Technology, Former Senior Associate General Counsel, UnitedHealthcare, Former General Counsel, Pacific Business Group on Health, Washington, DC

Roger Severino, JD
Director, Office for Civil Rights, US Department of Health and Human Services, Former Director, DeVos Center for Religion and Civil Society, Institute for Family, Community, and Opportunity, Heritage Foundation, Former Trial Attorney, Civil Rights Division, US the Department of Justice, Washington, DC
FEATURED FACULTY

Kate Black, JD
Global Privacy Officer and Senior Counsel, 23andMe, Former Health Privacy Attorney, Office of the National Coordinator for Health IT, Former Federal Policy Analyst, Center for Democracy & Technology, San Francisco, CA

John Boles
Director, Global Legal Technology Solutions, Ankura, Former Assistant Director, International Operations, FBI, Birmingham, AL

Erik Decker, MS
Chief Security and Privacy Officer, University of Chicago Medicine, Former Assistant Director, Information Security, Columbia University Medical Center, Chicago, IL

Josh DeFrain, MS
Chief Information Security Officer, Flatiron Health, Former Global Cyber Security Operations Director, Capital One, Washington, DC

Kristen Erbes, CIPP/US
Chief Privacy Officer, Cambia Health Solutions, Portland, OR

Mark Fox, CHC, CHPC, CHRC
Compliance and Privacy Officer, American College of Cardiology, Miami, FL

Tabatha George, JD
Associate, Fisher Phillips LLP, New Orleans, LA

Ellen Marie Giblin, JD, MEd, CIPP US,C,G
Chief Privacy Officer & Counsel, Privacy Hub, Former North American Privacy Officer, HIPAA Privacy Officer and Privacy Counsel and GDPR Core Team, Philips, Former Head HIPAA Privacy Officer of BCH and Foundations, Boston Children's Hospital , Boston, MA

Daniel F. Gottlieb, JD
Partner and Co-leader, Global Privacy and Cybersecurity Practice, McDermott Will & Emery, Chicago, IL

Kate Heinzelman, JD
Counsel, Sidley Austin LLP, Former Deputy GC, US DHHS, Former Special Assistant and Associate Counsel, President Barack Obama, Washington, DC

David Holtzman, JD, CIPP
Vice President, Compliance, CynergisTek, Inc., Former Senior Adviser for HIT and the HIPAA Security Rule, Office for Civil Rights, HHS, Austin, TX

Thora A. Johnson, JD
Partner and Chair of Healthcare Practice, Venable, LLP, Baltimore, MD

Tatyana Kanzaveli
Founder and Chief Executive Officer, Open Health Network, Resident Mentor, 500 Startups, Chief Executive Officer, TEDxBayArea, Former USSR Chess Champion, San Francoise, CA

John Kelly, MHA
Principal Business Advisor, Edifecs, Managing Director, HealthIT LLC, Boston, MA

Anne Kimbol, JD, LLM, CIPP/US, CHPC
Assistant General Counsel and Chief Privacy Officer, HITRUST, Former General Counsel, Texas Health Services Authority, Frisco, TX

Sharon R. Klein, JD, CIPP/US
Partner and Chair, Privacy, Security and Data Protection Practice, Pepper Hamilton LLP, Irvine, CA

Gail Kocher, MPA
Director, National Standards, Blue Cross Blue Shield Association, Chicago, IL

Suzanne Lestina
Director, Administrative Simplification, American Hospital Association, Former Director Revenue Cycle MAP, HFMA, Washington, DC

Heather McComas, PharmD
Director, Administrative Simplification Initiatives, American Medical Association, Former Professional Affairs Manager, National Association of Boards of Pharmacy (NABP), Chicago, IL

Thomas H. McCoy, MD
Director of Research, Center for Quantitative Health, Massachusetts General Hospital, Harvard Medical School, Boston, MA

Uday O. Ali Pabrai, MSEE, CISSP
Chief Executive and Co-founder, ecfirst, (Home of HIPAA Academy), Irvine, CA

Dawn Paulson, MJ, RHIA, CHPS, CPHI
Director, Informatics, Information Governance, Standards, AHIMA, Former Assistant Director – Health Information Management, University of Wisconsin Hospital and Clinics, Stoughton, WI

Roy H. Perlis, MD, MSc
Director, Center for Quantitative Health, Massachusetts General Hospital, Professor of Psychiatry, Harvard Medical School, Boston, MA

William J. Roberts, JD
Partner, Shipman & Goodwin LLP, North American Privacy Lead, Interlaw, Hartford, CT

Deidre Rodriguez, MS, CIPP/US
Vice President and Chief Privacy Officer, Aetna, Inc., Co-Chair, Privacy and Security Workgroup, WEDI, Denver, CO

Tracey Scraba, MPH, JD
Vice President and Chief Privacy Officer, Aetna, Inc., Hartford, CT

Christina Solis, JD, MPH
Senior Legal Officer and Privacy Officer, University of Texas Health Science Center at Houston, Houston, TX

Richard Staynings
Senior Vice President, Chief Security & Trust Officer, Clearwater Compliance, Nashville, TN

Chris Wargo, MBA
Managing Partner, Infolock, Washington, DC

Erin Weber
Director, Committee on Operating Rules for Information Exchange (CORE), CAQH – Streamlining the Business of Healthcare, Washington, DC

Shane Whitlatch, MBA
Enterprise Vice President – National and Enterprise accounts, FairWarning, Inc., Saint Petersburg, FL
THE 2018 TWENTY-SEVENTH NATIONAL HIPAA SUMMIT CONTENT IS NOW AVAILABLE IN VARIOUS POST CONFERENCE FORMATS
The 2018 Twenty-Seventh National HIPAA Summit conference content is now available in a variety of formats.
You may purchase the Summit streaming content in the following formats: Flash Drive or online archive (6 months).
YOU CAN PURCHASE JUST THE 2018 TWENTY-SEVENTH NATIONAL HIPAA SUMMIT CONTENT AS FOLLOWS:

Online Archive of 2018 National HIPAA Summit Presentations today!
Complete conference: $195

Flash Drive of 2018 National HIPAA Summit Presentations today!
$195
PARTICIPATION OPTIONS
TRADITIONAL ONSITE ATTENDANCE
Simply register, travel to the conference city and attend in person.
Pros: subject matter immersion; professional networking opportunities; faculty interaction

LIVE AND ARCHIVED WEBCAST PARTICIPATION
Watch the conference in live streaming video over the Internet and at your convenience at any time 24/7 for the six months following the event.
The archived conference includes speaker videos and coordinated PowerPoint presentations.
Pros: Live digital feed and 24/7 Internet access for next six months; Accessible in office, at home or anywhere worldwide with Internet access; Avoid travel expense and hassle; No time away from the office.


WEBCAST INTERFACE SAMPLE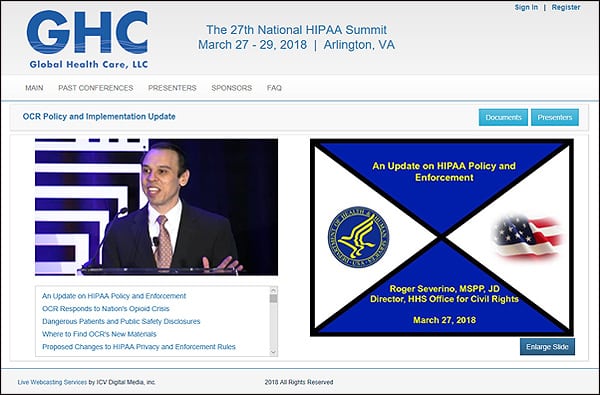 Click here for a sample stream