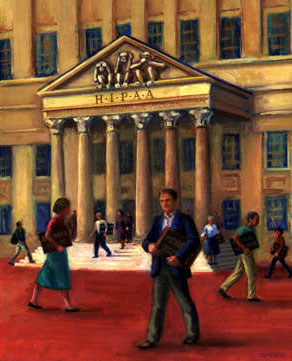 THE EIGHTH NATIONAL HIPAA SUMMIT
A Summit on Healthcare Privacy and Data Security: HIPAA and Beyond
March 7 - 9, 2004
Baltimore Marriott Waterfront Hotel
Baltimore, MD
Plus A Special Two-Day Training Session:
Mastering HIPAA EDI Implementation Guides
March 5 - 6, 2004
Platinum Grantors


Gold Grantors

Silver Grantors

For future information about the HIPAA Summit Conference Series and related educational events, please complete the form below.

HIPAA Summit
Sponsored by:
American Academy of Professional Coders
American Association of Healthcare Administrative Management
American Association of Medical Transcription
American Association of Preferred Provider Organizations
American Medical Group Association
Association for Electronic Health Care Transactions
Association of Healthcare Internal Auditors, Inc.
Association of Medical Directors of Information Systems
Association of Telehealth Service Providers
Blue Cross and Blue Shield Association
Catholic Health Association
Disease Management Association of America
E-Health Initiative
Electronic Healthcare Network Accreditation Commission
Federation of American Hospitals
Food and Drug Law Institute
Health Insurance Association of America
Health Level Seven
Health Technology Center
Healthcare Leadership Council
Hi-Ethics
HIMSS
Integrated Healthcare Association
International Association of Privacy Professionals
Internet Healthcare Coalition
IPA Association of America
MCOL
Medical Device Manufacturers Association
Medical Group Management Association
Medical Records Institute
Medical Transcription Industry Alliance
National Association of Claim Processing Professionals
National Association of Medical Staff Services
National Business Coalition on Health
National Council for Prescription Drug Programs
North Carolina Healthcare Information and Communications Alliance
Phoenix Health Systems
Professional Association of Health Care Office Management
Southern HIPAA Administrative Regional Process
(URAC) American Accreditation HealthCare Commission
Washington Business Group on Health
Workgroup for Electronic Data Interchange
Work Group for the Computerization of Behavioral Health and Human Services Records


Co-Sponsored by:
Advance for Health Information Executives
Advance for Health Information Professionals
AIS HIPAA Patient Privacy Guide
AIS Report on Patient Privacy
AIS Report on Medicare Compliance
AHA News
BNA's Privacy and Security Law Report
BNA's Health Care Fraud Report
BNA's Health Law Reporter
Briefings on Coding Compliance Strategies
Briefings on HIPAA
Compliance Hotline
eHealth Insider
Employer's Guide to Health Insurance Portability and Accountability Act
Employer's Guide to HIPAA Privacy Requirements
e-Healthcare Market Reporter
FierceBiotech
Group Practice Journal
Guide to Medical Privacy and HIPAA
Health Affairs Journal
Health Data Management
Health Information Compliance Insider
Health Information Privacy Alert
Health Law Update
Health Management Technology
Healthcare Compliance Portfolio
Healthcare Financial Management
Healthcare Forum Journal
Healthcare Informatics
Healthcare Intelligence Network
Healthcare Publishing News
Healthcare Risk Management Report
HealthLeaders
HIPAA and ehealth for Facility Management
HIPAA and eHealth for Physician Practices
HIPAA Desk Reference
HIPAA Implementation Newsletter
HIPAA Privacy Staff Trainer
Hospital Litigation & Liability Alert
Hospitals & Health Networks
Ingenix
Inside Healthcare Computing
Inside HIPAA Compliance
Interactive Healthcare Report
Internet Medicine
Jenks Healthcare Business Report
Journal of Health Care Compliance
Journal of Health Policy
Politics & Law
Managed Care Report
Managed Healthcare
Market Report
MD Computing
Millin's Health Fraud Monitor
Modern Healthcare
Modern Physician
Physician Practice Compliance Alert
Physician Practice Compliance Report
Practical Guidance on HIPAA and eHealth
Privacy Law Adviser
Privacy Officers' Advisor
Strategies for Health Care Compliance
Medical Education Collaborative
A Nonprofit Education Organization
AUDIO/VIDEO OF PAST HIPAA SUMMITS
NOW AVAILABLE!
Purchase a CD-ROM which includes video of speakers with synced powerpoint presentations.

THE EIGHTH NATIONAL HIPAA SUMMIT ON CD-ROM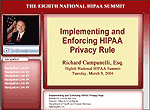 View the Eighth National HIPAA Summit plenary sessions video with synchronized PowerPoint slides and concurrent sessions audio on a CD-ROM from your computer. Instantly navigate to the presenter and the exact content you are after.

Ensure that your team's knowledge is current.

Click here for more details
and to order your copy today!
EIGHTH NATIONAL HIPAA SUMMIT PRESENTATIONS AVAILABLE
Speaker presentations from the Eighth National HIPAA Summit are available for viewing on-line in either Microsoft Powerpoint (PPT) or Adobe Acrobat (PDF) format under each speakers name in the agenda.

Click here to start viewing.





KEYNOTE SPEAKERS:

Richard M. Campanelli, Esq.
Director, Office for Civil Rights, Department of Health and Human Services, Washington, DC

Michael Loucks, Esq.
Chief of the Health Care Fraud Unit, Assistant U.S. Attorney, U.S. Attorney's Office for the District of Massachusetts, Boston, MA

Susan McAndrew, Esq.
Senior Advisor for HIPAA Privacy Policy, Office for Civil Rights, Department of Health and Human Services, Washington, DC

Karen Trudel
Acting Director, Office of HIPAA Standards, Centers for Medicare and Medicaid Services, Chair, Consolidated Health Informatics Initiative, Department of Health and Human Services, Baltimore, MD

FEATURED FACULTY:

Margret Amatayakul, RHIA, CHPS, FHIMSS
President, Margret\A Consulting, LLC, Schaumburg, IL

W. Holt Anderson
Executive Director, North Carolina Healthcare Information & Communications Alliance, Inc. (NCHICA), Research Triangle Park, NC

Chris Apgar, CISSP
Data Security and HIPAA Compliance Officer, Providence Health Plan, Beaverton, OR

Lee Barrett
Chief Executive Officer, MBEXX, Past Chair, X12N and WEDi, Executive Director, EHNAC

Gary A. Beatty
President, EC Integrity, and Chair, X12N Insurance Subcommittee, Stewartville, MN

Dianna Beckham
Assistant Vice President, and HIPAA Project Leader, Ascent Management, Inc., Ft. Worth, TX

Mark R. Beckmeyer, CBCP
Director, IT Security Practice, Computer Horizons Corporation, Leawood, KS

Leslie C. Bender, Esq.
General Counsel & Privacy Officer, roiWebEd Company, and Principal, Leslie C. Bender, PA, Timonium, MD

Regina Bergren, RN, BS, CPHQ
Privacy Officer, Staten Island University Hospital, New York, NY

Michael L. Blau, Esq.
Partner, McDermott, Will & Emery, Boston, MA

William R. Braithwaite, MD, Ph.D.
"Doctor HIPAA", Former National Director, HIPAA Advisory Services, PricewaterhouseCoopers, and Former Senior Advisor on Health Information Policy Department of Health and Human Services, Washington, DC

Daniel Brazen, CTP
Senior Product Manager e-Healthcare, PNC Bank, Pittsburgh, PA

Bill Brossman
HIPAA Practice Leader, Mercer Human Resource Consulting

Jonathan Bush, MBA
Chairman, CEO and Co-Founder, Athenahealth, Waltham, MA

Cathy Casagrande
Director of Health Information Management and Privacy, Frederick Memorial Health System, Frederick, MD

John Casillas
Founder and Senior Advisor, Medical Banking Project, Franklin, TN

Walt Culbertson
Chief Technology, Security and Privacy Officer, Webify Solutions and Chair, Southern HIPAA Administrative Regional Process (SHARP), and Co chair, Southern Insurance Commissioner Task Force, Jacksonville, FL

Gerald "Jud" E. DeLoss, Esq.
Associate, Barnwell Whaley Patterson & Helms, LLC, Charleston, SC

Lisa Eney
Consultant, G1440, and Project Manager, HIPAA Claims Transaction Code Sets, Aegon Direct Marketing Services, Baltimore, MD

Susan Fanelli
Privacy Project Manager, Office of HIPAA Compliance, California Department of Health Services, Folsom, CA

Bettina Maria Ferraro
HIPAA Compliance Manager, Saint Alphonsus Regional Medical Center, Boise, ID

Lisa A. Gallagher
Senior Vice President, URAC Information & Technology Accreditation, Washington, DC

Lynne Gilbertson
Director, Standards Development, National Council for Prescription Drug Programs, Inc., Scottsdale, AZ

Tom Gilligan
Executive Director, Association for Electronic Healthcare Transactions, Washington, DC

Alan S. Goldberg, JD, LLM
Partner, Goulston & Storrs, Adjunct Professor, University of Maryland School of Law, Moderator, AHLA HIT Listserve, Washington, DC

Robert Grenert, GSEC
Director of Information Security and HIPAA Security Officer, Mt. Graham Regional Medical Center, Safford, AZ

Tom Grove
Vice President, Phoenix Health Systems, Montgomery Village, MD

Stan Haavik
HIPAA Practice Director, Internet Commerce Corporation, New York. NY

Clyde Hanks
President, Managed Care Fundamentals, Inc., and Chief Operating Officer and Treasurer, The Health Care Interchange of Michigan, Farmington, CT

Tom Hanks
Partner, Strategy & Change, Health Care Industry, IBM Business Consulting Services, Chicago. IL

Saira N. Haque
Director of Corporate and HIPAA Compliance, St. Joseph's Hospital Health Center, Syracuse, NY

Angel Hoffman, RN, MSN
Director, Corporate Compliance, University of Pittsburgh Medical Center, Pittsburg, PA

J. Trevor Hughes
Executive Director, International Association of Privacy Professionals, York, ME

Ed Jones
President and Chief Executive Officer, Athens Electronic Health Record, and Chair, Workgroup on Electronic Data Interchange, Johns Island, SC

Jeff Kerber
Director, HIPAA Compliance, Corporate Privacy Officer, Texoma Healthcare System, Denison, TX

Mary T. Knapp
Senior Director, CHC Healthcare Solutions, Jenkintown, PA

Steven S. Lazarus, Ph.D., FHIMSS
President, Boundary Information Group, and Immediate Past Chair, WEDI, Denver, CO

Mark E. Lutes, Esq.
Partner, Epstein Becker & Green, P.C., Washington, DC

Janet Marchibroda
Chief Executive Officer, eHealth Initiative, Foundation for eHealth Initiative, and Markle Foundation's Connecting for Health, Washington, DC

David McDaniel
Deputy Director of Business Development for HIPAA, Department of Veterans Affairs, Veterans Health Administration, Washington, DC

Mark McLaughlin
Chair-elect, WEDI, Regulatory Policy Analyst, McKesson, Dubuque, IA

David S. Miller
Senior Director Regulatory Compliance and Government Affairs, Uniprise, a Unitedhealth Group Company, and Chair, WEDI Contingency Planning Task Group, Hartford, CN

Lisa Miller
Chief Operating Officer, Washington Publishing Company, Rockville, MD

Ron Moore, DBA
State HIPAA Coordinator, Columbia, SC

Rick Morrison
Chief Exective Officer, AdminiSource\Remettra, Little Rock, AR

Kirk J. Nahra, Esq.
Partner, Wiley Rein & Fielding, and Editor, IAPP Privacy Officers Advisor, Washington, DC

Uday O. Ali Pabrai, CHSS, SCNA
President and CEO, HIPAA Academy, Warrenville, IL

Michael Parkinson, MD, MPH
Executive Vice President, Chief Health & Medical Officer, Lumenos, Inc., Alexandria, VA

John C. Parmigiani
Senior Vice President for Consulting Services, QuickCompliance, Inc., Ellicott City, MD

Yelena Patish
Performance Improvement Specialist,Visiting Nurse Service of New York, New York, NY

John Phelan, Ph.D.
Health Management and Technology Consultant, Milliman USA, Philadelphia, PA

Dan Petrosky
Founding Member, EDI Partners, Minneapolis, MN

Joy Pritts,JD
Assistant Research Professor, Health Policy Institute, Georgetown University, Washington, DC

Helga Rippen, MD, MPH, PhD.
Deputy Senior Advisor, National Health Information Infrastructure Office of the Assistant Secretary for Planning and Evaluation, US Department of Health and Human Services, Washington, DC

Ron Ross, Ph.D., NIST
Computer Security Division, Gaithersburg, MD

Frank Ruelas, MBA
Director, Corporate Compliance, Gila River Health Care Corporation, Phoenix, AZ

Lynda A. Russell, EdD, JD, RHIA
Privacy Manager, Corporate Compliance, Cedars-Sinai Medical Center, Los Angeles, CA

Sandra "SAM" Sather, BSN, CCRA, CCRC
Clinical Research Consultant, Vice President Clinical Pathways, LLC, Wilmington, NC

Greg Scandlen
Director, Center forConsumer-Directed Healthcare, Galen Institute, Alexandria, VA

Jack Scott
Senior Manager in the National Health Care, and Life Sciences Regulatory Consulting Group, Deloitte & Touche, LLP, New York, NY

Sherry Shults, RN, BSN
Director Clinical Support, South Carolina Heart Center, Columbia, SC

Paul T. Smith, Esq.
Partner and Co chair, HIPAA Task Force, Davis Wright Tremaine, San Francisco, CA

Bob Tahmaseb, CISSP, RSA/CSE, CHP, CHSS
Principal systems Engineer, RSA Security, Minnetonka, MN

John Thompson
Director, Phoenix Health Systems, Montgomery Village, MD

Bill Tulloch
Director, Product Development, National Committee for Quality Assurance, Washington, DC

Brenda Wagner
Senior Technical Analyst, Aegon Direct Marketing Services, Scranton, PA

Tom Walsh, CISSP
President, Tom Walsh Consulting, and Former Information Security Manager, Saint Luke's Health System, Overland Park, KS

Maria T. Ward
Senior Associate, PricewaterhouseCoopers, LLP, Chair, DSMO Steering Committee, Co chair, HL7 Attachment SIG, Co chair, WEDI Attachment PAG, Chicago, IL

Roberta M. Ward, Esq.
HIPAA Privacy Officer and Senior Counsel, California Department of Health Services, Folsom, CA

Thomas Welch, CPP, CISSP
Chief Executive Officer, Secure Enterprise Solutions, Parsippany, NJ

Rebecca L. Williams, RN, JD
Partner and Co-chair, HIPAA Task Force, Davis Wright Tremaine LLP and Chair, Preemption Sub-workgroup, Workgroup for Electronic Data Interchange, Seattle, WA

Roxlyn Woosley
Chief Privacy Officer, Visiting Nurse Service of New York, New York, NY

Brian M. Wyatt, Esq.
Partner, Ropes & Gray LLP, New York, NY

Ken Yale, DDS, JD
Vice President, Business Strategies & Regulatory Counsel, Eduneering, Inc., Princeton, NJ

David Young
IT Program Director, Geisinger Health System, Danville, PA

Kepa Zubeldia, MD
President and CEO, Claredi Corp., Vice Chair, AFEHCT, and WEDI Security Policy Advisory Group, Kaysville, UT