Shared Exhibit Hall for Collocated HIPAA and Connecting Communities for Better Health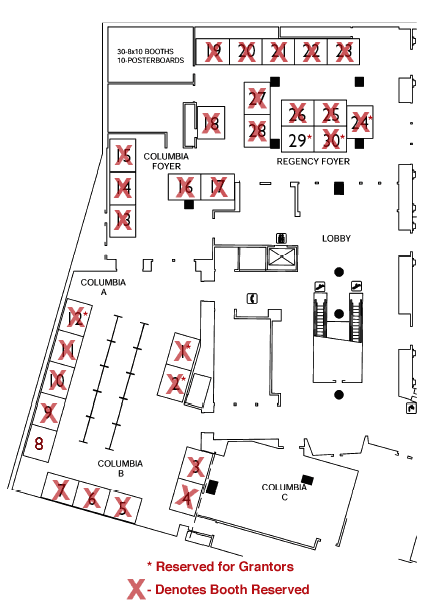 Exhibit Cost:
$1,995

Cost includes: (1) 8'x10' pipe/drape booth, (1) 6' skirted table, (2) chairs, (1) wastepaper basket, and a company ID sign. Phone lines, electricity and any other materials are an additional cost through the exhibit show company.

Note: Exhibit hall is carpeted. It is included in the cost of a booth space.

On-site showguide deadline:
In order to have your company listing/booth number included in the show guide, exhibit and sponsor registration must be in no later than March 20, 2006.

Set-up/Teardown Hours:
Exhibitors Set- Up
Sunday, April 9, 2006
2:00 pm - 5:00 pm

Exhibitor Teardown
Tuesday, April 10, 2006
1:30 pm - 3:30 pm


Exhibit Hall Hours:
Monday, April 10, 2006
7:00 am - 7:30 pm

Tuesday, April 11, 2006
7:00 am - 1:30 pm

Events in the Exhibit Hall:
Monday, April 10, 2006
Continental Breakfast
Morning Break
Networking Luncheon
Networking Reception

Tuesday, April 11, 2006
Breakfast
Networking Luncheon


Service Contractor Contacts:
Freeman Decorating
301-918-7900
www.myfreemanonline.com

For More Information Contact:
Joni Lipson
800-546-3750
Email: Joni.lipson@rmpinc.com