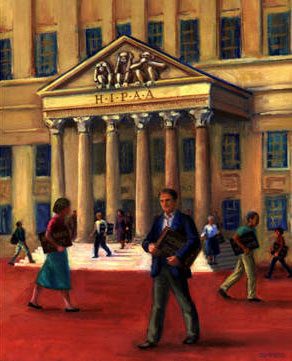 THE TENTH NATIONAL HIPAA SUMMIT
The Leading Forum on Healthcare EDI, Privacy, Confidentiality, Data Security and HIPAA Compliance


April 6 - 8, 2005

Baltimore Marriott Waterfront Hotel
Baltimore, MD


Bronze Grantors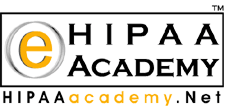 ---
HIPAA Summit
Sponsored by:
American Academy of Professional Coders
American Association of Healthcare Administrative Management
American Association of Medical Transcription
American Association of Preferred Provider Organizations
American Medical Group Association
Aspen Publishers' Health Information Management Manual
Aspen Publishers' HIPAA: A Guide to Health Care Privacy and Security Law
Association for Electronic Health Care Transactions
Association of Healthcare Internal Auditors, Inc.
Association of Medical Directors of Information Systems
Association of Telehealth Service Providers
Blue Cross and Blue Shield Association
Catholic Health Association
Cyber Security Industry Alliance (CSIA)
Disease Management Association of America
eHealth Initiative
Electronic Healthcare Network Accreditation Commission
Federation of American Hospitals
Health Level Seven
Health Technology Center
Healthcare Leadership Council
Hi-Ethics
Integrated Healthcare Association
International Association of Privacy Professionals
Internet Healthcare Coalition
IPA Association of America
MCOL
Medical Device Manufacturers Association
Medical Group Management Association
Medical Records Institute
Medical Transcription Industry Alliance
National Association of Claim Processing Professionals
National Association of Medical Staff Services
National Business Coalition on Health
National Council for Prescription Drug Programs
North Carolina Healthcare Information and Communications Alliance
Phoenix Health Systems
Professional Association of Health Care Office Management
Southern HIPAA Administrative Regional Process
URAC
Washington Business Group on Health
Workgroup for Electronic Data Interchange
Work Group for the Computerization of Behavioral Health and Human Services Records


Co-Sponsored by:
Advance for Health Information Executives
Advance for Health Information Professionals
AIS HIPAA Patient Privacy Guide
AIS Report on Patient Privacy
AIS Report on Medicare Compliance
AHA News
BNA's Privacy and Security Law Report
BNA's Health Care Fraud Report
BNA's Health Law Reporter
Briefings on Coding Compliance Strategies
Briefings on HIPAA
CCH INCORPORATED
eHealth Insider
Employer's Guide to Health Insurance Portability and Accountability Act
Employer's Guide to HIPAA Privacy Requirements
e-Healthcare Market Reporter
FierceBiotech
For the Record Magazine
Group Practice Journal
Guide to Medical Privacy and HIPAA
Health Affairs Journal
Health Data Management
Health Information Compliance Insider
Health Information Privacy Alert
Health Law Update
Health Management Technology
Healthcare Compliance Portfolio
Healthcare Financial Management
Healthcare Forum Journal
Healthcare Informatics
Healthcare Intelligence Network
Healthcare Publishing News
Healthcare Risk Management Report
HealthLeaders
HIPAA and ehealth for Facility Management
HIPAA and eHealth for Physician Practices
HIPAA Desk Reference
HIPAA Implementation Newsletter
HIPAA Privacy Staff Trainer
Hospital Litigation & Liability Alert
Hospitals & Health Networks
Ingenix
Inside Healthcare Computing
Inside HIPAA Compliance
Interactive Healthcare Report
Internet Medicine
Jenks Healthcare Business Report
Journal of Health Care Compliance
Journal of Health Policy
Politics & Law
Managed Care Report
Managed Healthcare
Market Report
MD Computing
Millin's Health Fraud Monitor
Modern Healthcare
Modern Physician
Physician Practice Compliance Alert
Physician Practice Compliance Report
Practical Guidance on HIPAA and eHealth
Privacy Law Adviser
Privacy Officers' Advisor
Strategies for Health Care Compliance
Medical Education Collaborative
A Nonprofit Education Organization
AUDIO/VIDEO OF PAST HIPAA SUMMITS
For future information about the HIPAA Summit Conference Series and related educational events, please complete the form below.


KAREN TRUDEL OF THE OFFICE OF HIPAA STANDARDS RECEIVED DISTINGUISHED SERVICE AWARD
KAREN TRUDEL, Deputy Director, Office of HIPAA Standards, Centers for Medicare and Medicaid Services, Department of Health and Human Services, Washington, DC, received the HIPAA SUMMIT IX DISTINGUISHED ACHIEVEMENT AWARD at the Tenth National HIPAA Summit in Baltimore, Maryland on April 8, 2005. This award is given to those who have made a unique and substantial contribution to the achievement of the mission of the Administrative Simplification subtitle of the Health Insurance Portability and Accountability Act of 1996.
NOW AVAILABLE!
THE TENTH NATIONAL HIPAA SUMMIT ON CD
Purchase a CD with audio from the Tenth National HIPAA Summit. Available as the entire conference audio or by individual session.

Click here for more details
and to order your copy today!
KEYNOTE SPEAKERS:
William R. Braithwaite, MD, Ph.D.
"Doctor HIPAA", Senior Vice President and Chief Medical Officer, eHealth Initiative, Former Senior Advisor on Health Information Policy, Department of Health and Human Services, Washington, DC

Richard M. Campanelli, Esq.
Director, Office for Civil Rights, Department of Health and Human Services, Washington, DC

Nuala O'Connor Kelly
Chief Privacy Officer, Department of Homeland Security, Washington, DC

Janet Marchibroda
Chief Executive Officer, eHealth Initiative, Foundation for eHealth Initiative and Markle Foundation's Connecting for Health, Washington, DC

Susan McAndrew, Esq.
Senior Advisor for HIPAA Privacy Policy, Office for Civil Rights, Department of Health and Human Services, Washington, DC

Stanley Nachimson
Office of HIPAA Standards, Centers for Medicare and Medicaid Services, Baltimore, MD

Brad Peska, CISSP
Office of HIPAA Standards, Centers for Medicare and Medicaid Services, Baltimore, MD

Ronald S. Ross, Ph.D.
Computer Science Division, Information Technology Laboratory, National Institute of Standards and Technology, Gaithersburg, MD

Kepa Zubeldia, MD
President and Chief Executive Officer, Claredi, Former Chair AFEHCT, Former Member, NCVHS and Co Chair, WEDI Security Policy Advisory Group, Kaysville, UT

SUMMIT CO CHAIRS:
Alan S. Goldberg, JD, LLM
Partner, Goulston & Storrs, Adjunct Professor of Law, University of Maryland School of Law and Suffolk University Law School and Past President, American Health Lawyers Association, Washington, DC

Steven S. Lazarus, Ph.D., FHIMSS
President, Boundary Information Group and Past Chair, WEDI, Denver, CO

John C. Parmigiani
Senior Vice President for Consulting Services, QuickCompliance, Inc., Former Director of Enterprise Standards, HCFA, Ellicott City, MD





FEATURED FACULTY:

Margret Amatayakul, RHIA, CHPS, FHIMSS
President, Margret\A Consulting, LLC, Schaumburg, IL

Chris Apgar, CISSP
President, Apgar & Associates, LLC, Portland, OR

Gary A. Beatty
President, EC Integrity, Chair, X12N Insurance Subcommittee, Stewartville, MN

Sharon Budman, MS ED
Director of HIPAA Privacy and Security, University of Miami Miller School of Medicine, Miami, FL

Patrick S. Cheng, Esq.
Deputy General Counsel, The Church Pension Fund, New York, NY

Gary G. Christoph, CISM, CHS
Senior Vice President Government and Healthcare, Seclarity, Inc., Former Chief Operating Officer, National Institutes of Health Center for Information Technology, Former Chief Information Officer, Centers for Medicare and Medicaid Services, Columbia, MD

Yang Chu
Senior Manager, Deloitte & Touche, San Francisco, CA

Bernie Citerone, CPA, FHFMA
Vice President and Chief Financial Officer, St. Francis Hospital, Wilmington, DE

Sarah E. Coyne, Esq.
Partner, Quarles & Brady LLP, Madison, WI

Kevin Day
Chief Technology Officer, Relational Security Corporation, Author, Inside the Security Mind: Making the Tough Decisions, North Bergen, NJ

Cecilia DeLoach, HEM
H2E State Partnership Program Director, Hospitals for a Healthy Environment (H2E), Arlington, VA

Gerald E. DeLoss, Esq.
General Counsel, Fairmont Orthopedics & Sports Medicine, PA, Fairmont, MN

Richard S. Dick, Ph.D.
Chairman, You Take Control, Inc., Alpine, UT

Connie Emery, CISM, CISSP, CISA, CIA, CPA
Vice President, Information Privacy/Security Officer, Tenet Healthcare Corporation, Dallas, TX

David A. Feinberg, CDP
President, Rensis Corporation, Seattle, WA

Rachel Foerster
Chief Executive Officer, Rachel Foerster & Associates Ltd., Beach Park, IL

Marc D. Goldstone, Esq.
Partner, Hoagland Longo, New Brunswick, NJ

Mark S. Gordon
Senior Fellow and Director, Healthcare Information Networks and Technologies, Thomas Edison State College, Trenton, NJ

Christie Grymes
Associate, Collier Shannon Scott, Washington, DC

Patrick Hatfield, Esq.
Partner, Lord, Bissell & Brook LLP, Atlanta, GA

Eric J. Hulett, Esq.
Member, Steptoe & Johnson PLLC, Martinsburg, WV

Sam Jenkins, CHE
Privacy Officer, TRICARE Management Activity (TMA), Falls Church, VA

Carol Karps
Senior Consultant, FourThought Group, Inc., Phoenix, AZ

James Koenig, Esq.
Practice Co-leader, Privacy Strategy and Compliance, PricewaterhouseCoopers, Philadelphia, PA

Richard W. Landen
Director, National Electronic Standards, Blue Cross Blue Shield Association, Co-Chair, WEDI NPI and Health Plan Identifiers Policy Advisory Group, Chicago, IL

Don Lewis
Chief Information Officer, Pacific Medical Centers, Seattle, WA

Wayne Mackert
Managing Director, iTM Healthcare / iTech Management, LLC, Bellevue, WA

Peter G. Marino
Director, HIPAA, Kindred Healthcare, Inc., Louisville, KY

C. David McDaniel
Deputy Director of Business Development for HIPAA, Department of Veterans Affairs/Veterans Health Administration, Washington, DC

Mark McLaughlin
Regulatory Policy Analyst, McKesson, Chair, WEDI, Dubuque, IA

Kirk J. Nahra, Esq.
Partner, Wiley, Rein and Fielding, LLP, Washington, DC

Jon Neiditz, Esq.
Of Counsel, Lord, Bissell and Brook LLP, Atlanta, GA

Ruth V. Nelson
Director and Co-Leader, Privacy Practice, PricewaterhouseCoopers, New York, NY

Joseph Nichols, MD
Director of Healthcare Solutions, Edifecs, Bellevue, WA

Uday O. Ali Pabrai, CISSP, CHSS
Chief Executive, HIPAA Academy, Warrenville, IL

Dan Petrosky
Founding Member, EDI Partners, Minneapolis, MN

William Phillips, MHA, FACMC, CHC
Vice President and CRO, Revenue Strategies, Inc., Fort Lauderdale, FL

Ishwar Ramsingh, CISSP, MBA
Information Security Administrator, University of Miami Miller School of Medicine, Miami, FL

April D. Robertson, MPA, RHIA, CHP
Corporate Compliance Officer, ChartOne, Inc., Burlington, MA

Frank Ruelas, MBA
Compliance Officer, Gila River Health Care Corporation, Sacaton, AZ

Mark E. Schreiber, Esq.
Partner and Chair, Privacy Group, Palmer & Dodge LLP, Boston, MA

Bradley K. Shafer, Esq.
Member, Steptoe & Johnson PLLC, Wheeling, WV

Paul T. Smith, Esq.
Partner and Co chair, HIPAA Task Force, Davis Wright Tremaine LLP, San Francisco, CA

Dan Steinberg, JD
Senior Consultant, Booz Allen Hamilton, Falls Church, VA

Bryan Tretick
Principal, Ernst & Young, McLean, VA

Andrew Vezina
Manager, Tenet Healthcare Corporation, Dallas, TX

L. Carl Volpe, Ph.D.
Vice President, Strategic Initiatives, WellPoint, Inc., Chair, Committee on Operating Rules for Information Exchange (CORE), Council for Affordable Quality Healthcare, Thousand Oaks, CA

Andrew B. Wachler, Esq.
Principal, Wachler & Associates, PC, Royal Oak, MI

Charles Waldhauser
Technical Advisor, Centers for Medicare and Medicaid Services, Baltimore, MD

Janelle Wesloh
Director of RMIS and Privacy Operations, Hazelden Foundation, Center City, MN

Michael Wierzbicki
Project Manager, Department. of Veterans Affairs/Veterans Health Administration, Washington, DC

Rebecca L. Williams, RN, JD
Partner and Co-chair, HIPAA Task Force, Davis Wright Tremaine LLP, Chair, Preemption Sub-workgroup, Workgroup for Electronic Data Interchange, Seattle, WA

Kepa Zubeldia, MD
President and Chief Executive Officer, Claredi, Former Chair AFEHCT, Former Member, NCVHS, Co Chair, WEDI Security Policy Advisory Group, Kaysville, UT